A new 2K game, NBA 2K18, has dropped, marking, along with media day and the beginning of camp, the start of a new NBA season
Could you describe the process behind creating the ratings? How much of it is eye test, how much of it is stats, which stats do you use?
We have a ton of ratings. We have all the different shooting ratings — like close, midrange, 3s. We actually have whether you're standing or moving from each of those distances. For passing, we have a couple of different passing ratings, like "Pass Vision," "Pass Accuracy," "Pass IQ."
There's a direct formula that I use to come up with these ratings for each individual attribute. And then there's a few that are a little more subjective. Like a driving dunk — because it's not [how frequently you dunk], it's your ability to actually do it, too. But they're all based on some stats. I was actually reading your article on Grantland about the new hustle stats. It's like every time you think you have something that's a little bit subjective, the more you jump into it, the more you see people coming up with their own formulas. It's interesting.
is anyone objecting to the top 10 list?
You know what? Every single time they post ratings, there's always people objecting to them. There's some subjectivity to it, so people are always looking at it. They all have an opinion and a favorite team, and everybody's favorite player should always be a top 10. It's always interesting. But in general, the feedback has been pretty solid. A lot of people think it's a pretty good list, you know, with a couple of exceptions here and there. It's been received pretty well.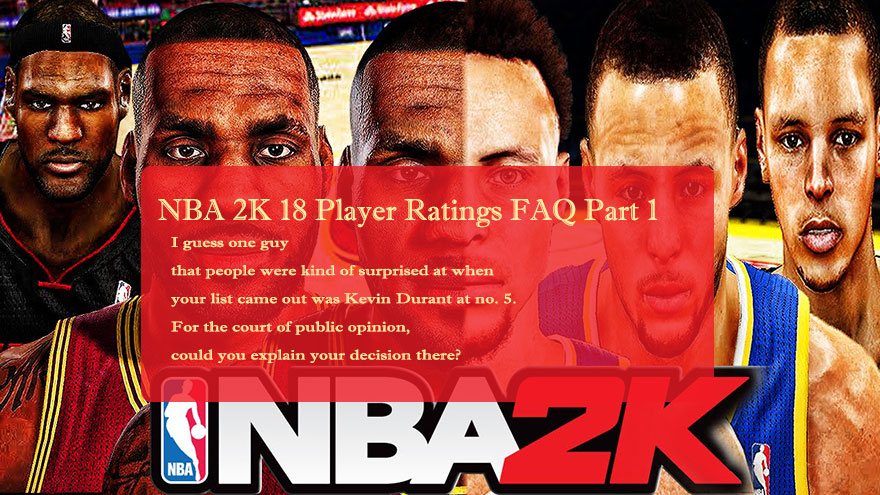 I guess one guy that people were kind of surprised at when your list came out was Kevin Durant at no. 5. For the court of public opinion, could you explain your decision there?
He shot very well last year, so his ratings are still on par with what they were the year before. This past year, it's just that, you know, some of the ratings that we looked at for when you're coming off injuries and … I know he's not listed at 7 feet, but when any 7-footer is having foot injuries, you're concerned with them coming back and being in the same form.
I personally love Kevin Durant. I think his rating will be one that shoots up pretty high this season. Any rating is a projection. These ratings are very fluid. If you're a 91, that doesn't mean you're gonna be a 91 all year. We have had players go up and down 10 points, depending on how they played. And because we update our rosters so frequently, we're able to make these projections and are able to increase or decrease the player at a rate that makes sense throughout the season